"Sail with Spirit"
EXPLORE • EXPAND • EVOLVE
---
Join with Like-Minded Souls
in the Experience of a Lifetime
Our Sail with Spirit and Seminar-at-Sea takes place right on our luxury cruise ship during our seven-day cruise, in conference rooms on the ship, and during our port calls in Alaska.

- Join us on an incredible cruise and as we sail from Seattle to the awe-inspiring glaciers and ports of Alaska.

- Be a part of an awesome spiritual conference at Sea, with legendary celebrity psychic mediums, spiritual teachers, and healers.

- Experience the indigenous Alaskan culture and discover the tradition of Shamanism in Alaska.

- Enjoy 7 days of bliss, as we sail together into higher consciousness and spiritual awakening.

- Practice yoga, enjoy veg, non-veg, or raw food, and participate in awesome spiritual workshops and activities.

- View the crisp, starlit Alaskan sky with a nightly UFO Starwatch.

- Make new friends, gain greater wisdom, and create memories that will last a lifetime.
Round-Trip Seattle to Alaska
Endicott Arm Fjord and Dawes Glacier
• SEATTLE • KETCHIKAN • JUNEAU • SKAGWAY • VICTORIA •
---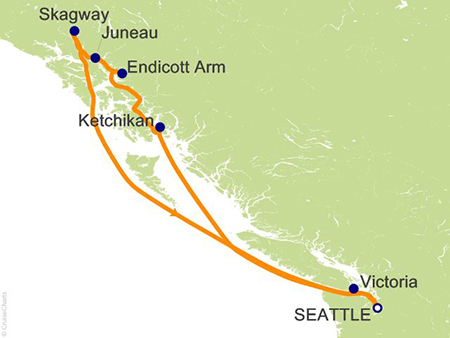 SAIL WITH SPIRIT
May 21 to 28, 2021



DATE


PORT


ARRIVE


DEPART


Thur. May 20
Pre-tour: Seattle
7:30 pm
9:00 pm
Fri. May 21
Seattle
4:00 pm
Sat. May 22
At Sea
Sun. May 23
Ketchikan
7:00 am
4:00 pm
Mon. May 24
Juneau
1:30 pm
10:00 pm
Tue. May 25
Skagway
7:00 am
6:00 pm
Wed. May 26
At Sea
Thur. May 27
Victoria
5:30 PM
11:59 PM
Fri. May 28
Seattle
6:00 AM
REGISTER HERE NOW